Models
Here is a guidline to the various plectrum shapes you will find on this website. The 'drop' outline is based on a standard pick, the drop is typically approx 8-10mm thick in its center unless specified in the description. The ANVIL plectrums are approx 10mm thick unless specified in descriptions.
All the picks I build are listed on this website, I do not build 'made to measure' plectrums.
It is almost impossible to recommend a specific pick considering that we are all unique, have very different playing techniques and ways of using up a pick. This really comes down to personal preference and experimenting. My plectrums are not bound to a specific music style.
The price of a plectrum is based on the material cost, time and labour. The hard surface non porous materials offer a very big attack when hitting the strings:
-Cell Cast Acrylic
-Galalith
-Polycarbonate
-Cell Cast Cross-Linked Acrylic
-Polysulfone
-TORLON® 4203
-ULTEM® 1000
-KETRON® (PEEK 1000)
-HufGlow (this material is porous)
The fibers are porous materials and offer a softer tough when hitting the strings. If you are experiencing a 'click sound' when playing a hard surface material, this might be your materials of choice:
-Ertalyte
-Natural HUFTECH
-Engeneering regenerated green UHMWPE
-Engineering virgin blue UHMWPE
-HUFTRON
-GREY HUFTECH
-RED HUFTRON
-GREEN HUFLON
Aside from that, I have also designed some exclusive metal plectrums! Metal picks are very popular because they provide a massive sharp, loud and bright attack!
Click here for a larger image!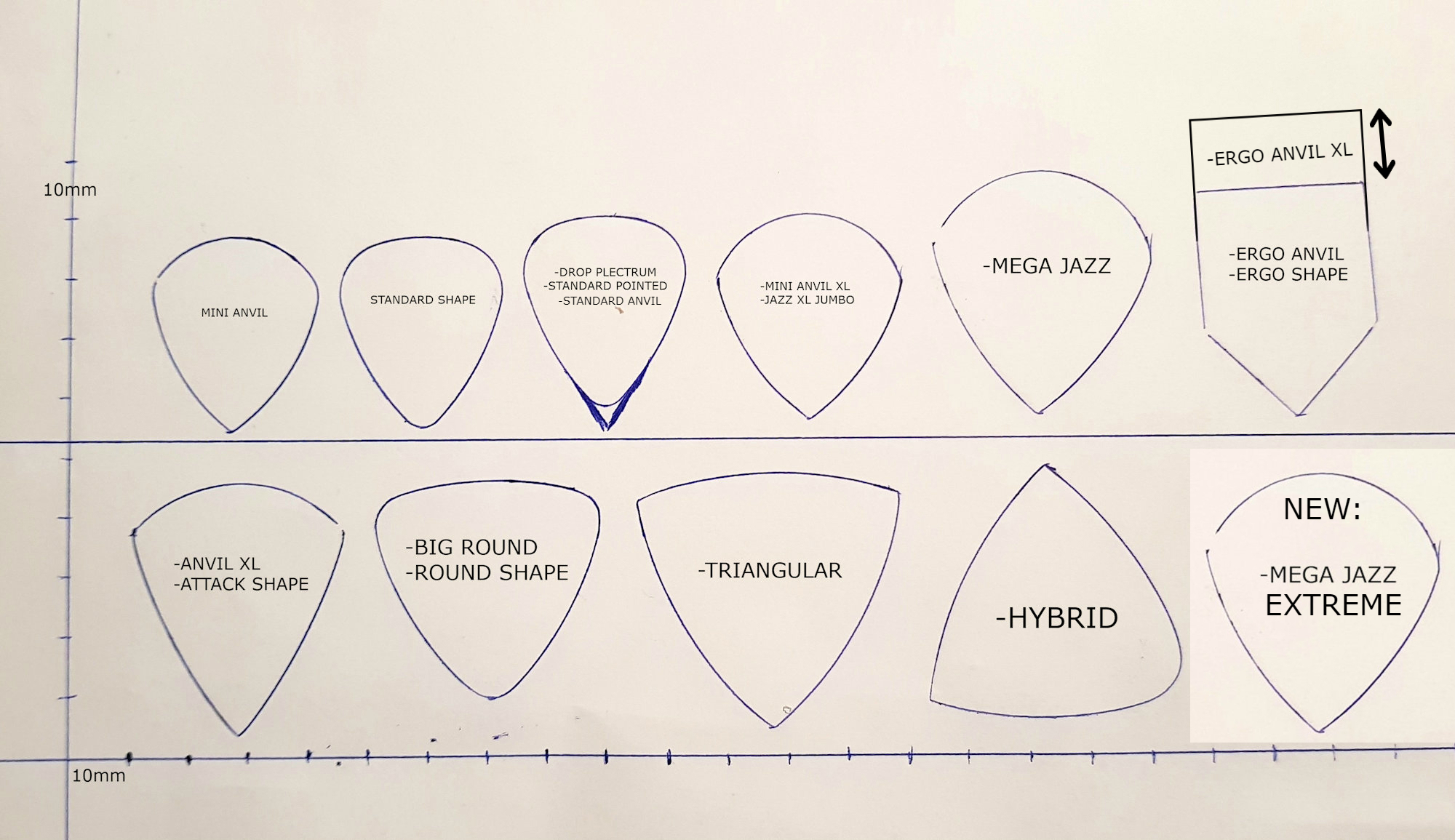 Economy of motion + more playing strength = less playing effort! My plectrums are much thicker than the norm. The idea is to minimise movement and increase the guitarist's hand strength. Less effort is required to play, which is a relief to the player. As a result, he will have less cramping and tenseness, which is very useful for guitarists suffering from osteoarthritis, tendinitis or other muscular problems. Naturally, this is also very interesting for the adventurous guitarist who has none of these problems, because this bio-mechanical phenomenon can help him obtain more precision, strength and speed too!
Mes plectres sont beaucoup plus épais que la norme. L'idée est de minimiser les mouvements et d'augmenter la force de la main du guitariste. Moins d'efforts sont nécessaires pour jouer, ce qui est un soulagement pour le joueur. En conséquence, il aura moins de crampes et de tension, ce qui est très utile pour les guitaristes souffrant d'arthrose, de tendinite ou d'autres problèmes musculaires. Naturellement, ce design est également très intéressant pour le guitariste aventureux ne souffrant d'aucun de ces problèmes, car ce phénomène biomécanique peut lui permettre d'obtenir plus de précision, de force et de vitesse de jeu ! © 1996-2023 Hufschmid Guitars All Rights Reserved.